Effective Immediately
Hours of pick-up from our shop by clients is Monday - Friday between 7:00 a.m. and 3:30 p.m. ONLY. Thank you
Why just paint it when you can Powder Coat it?
The team at Ottawa Powder Coating is dedicated to delivering durability and quality in every finished job we do.  We've been serving a wide range of clients since 2004, from individuals to Corporations, Artisans to Industries.  Whether you require one item or dozens powder coating,  if it can withstand temperatures of up to 450 degrees Fahrenheit,  we are happy to help make your next project for home, office, industry, commercial setting or artistic expression look great and last for years to come!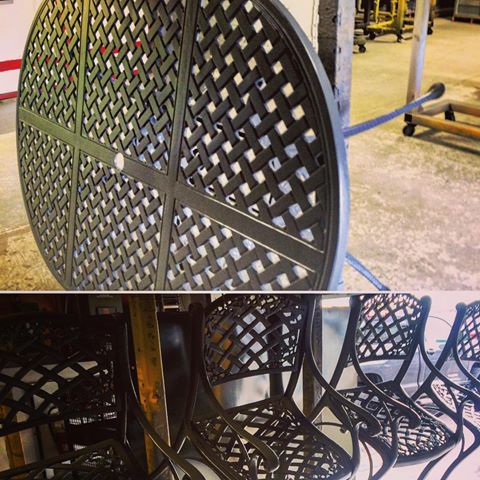 Our quality is showcased around the City of Ottawa in various locations  from Little Italy to the Glebe.  Along Bank Street as well as in various locations where many unique sculptures are showcased.
But, we also service the Residential owner to give a face lift to a favorite metal patio set, refurbish vintage heat radiators, add durability to hand railings and fences and much, much more!
As we continue to expand our clientele, we also continue to expand the interesting projects we have the opportunity to work on.  We look forward to working with your project soon!
We've been serving the Ottawa-Carleton and surrounding region for over a decade.  We are proud to have clients locally, Nationally and Internationally and have serviced a wide range of clientele with an even wider range of requirements.  Our quality applications have become well-respected and highly regarded by many and we are pleased to have the continued privilege to deliver our level of excellence to projects  within our own City as well as in many locations around the World including such places as Nunavut, Northwest Territories, Edmonton, Alberta, Toronto, Ontario, the United States, Europe and beyond.
Our staff is here to assist you with your requirements for powder coating and to answer any questions you may have about the process, our services or to receive a quote. 
We look forward to delivering our quality brand of service to you and helping you to make  your next job not only look great but last long!
President/Owner
Kent brings over 40 years experience to the helm, having been in the Powder Coating industry since the mid-80's, there's little about the business Kent doesn't know. Despite his level of expertise, he will often communicate with his powder coating suppliers to ensure he is meeting his customers' needs effectively and to the highest standards within the industry. His level of expertise combined with his genuine interest in ensuring clients receive the best in quality and service means as a customer of Ottawa Powder Coating, Ltd, you are treated to a level of professionalism that they are well known for delivering. After opening and operating Ottawa Powder Coating, Ltd, as the General Manager from 2004 until he purchased the business in June, 2017, Kent and his staff have been busy implementing forward-thinking measures and ideas designed to ensure their customers continue to enjoy a level of service and quality that reflects the integrity that Ottawa Powder Coating has built its reputation on. Kent looks forward to welcoming you to the office on your next or first visit!

Production Co-Ordinator
As the Production Co-ordinator, Brittanie ensures our customer's requirements are being fully met. From the first contact through to delivery of your product, she oversees and effectively takes care of every aspect involved in making sure every customer receives the utmost in service. From general inquiries through to keeping track of which customer is expecting what product and when; Brittanie is an integral key player helping Ottawa Powder Coating make customer service and coordination look effortless. She always ensures our customer's satisfaction is priority one. Brittanie brings to her position a high level of integrity and customer-oriented service coupled with the knowledge, organizational and time management skills that makes running our business look almost effortless. Our office operates at a peak of efficiency thanks to her expertise in coordination, scheduling, inventory control and account management. She looks forward to speaking with you soon.

Production Team
Our Production Team is an integral part of why Ottawa Powder Coating is a highly respected Coating company in the Region and beyond known for our quality finishes & top-notch application methods. Our team is responsible for the preparation, blasting, powder coating, and numerous other tasks involved in ensuring customer's products are coated to requirements. There are a lot of different steps that must be taken to deliver quality end results and the Ottawa Powder Coating team takes the steps necessary to make sure every job is done to the level of expectation. Our staff is a great mix of seasoned veterans with solid backgrounds in the industry and eager newcomers willing to learn the business from the ground up. This places Ottawa Powder Coating in a unique position to not only adeptly and consistently deliver top quality results but do so with a great mix of expertise, professionalism and quick turn around results on a regular basis. We're pleased to introduce you to our Production team from Left to Right Rear - Nick, Dan, Mike N, Left to Right Front - Mike L., Alex, Justin. Feel free to give them a 'thumbs up' next time you're by the office.
What Our Clients Are Saying

"We have been using Ottawa Powder Coating for almost a decade. As one of Canada's fastest growing companies and as a leading manufacturer of highly custom athletic equipment for the construction market, our projects are highly unique and require fast turnarounds. Our business has come to rely on Ottawa Powder Coating to deliver excellent process recommendations and a fantastic lead-times. Great work guys!"
Sport Systems Canada Inc.

"TAMCO has worked with Ottawa Powder Coating for over 4 years, and I've worked with them since starting at TAMCO in 2015. With our 10 day turnaround on orders, we demand high standards and often less than 5 days' turnaround from Ottawa Powder Coating - recently less than 2 days has been the norm. Kent and the team's ability to cater to our requests is top notch and they really go the extra mile to make sure we're really happy with our epoxy treated products. I've worked closely with Kent and on the rare occasions we've had to return items for "touch-ups" they've been promptly picked-up and returned to us, often the same day. I would thoroughly recommend them, a great family business that really works hard to make the customer satisfied."
T. A. MORRISON & CO. INC.
"It is with my Greatest Pleasure & Complete Satisfaction when telling consumers of our personal experiences in dealing with you & your company. From the moment we were introduced the business & personal relationship that has developed remains untarnished. Kent is one of those rare breeds that assure his customers' needs are met with honesty & dignity. I would not hesitate in recommending O.P.C. as your 1st choice when it comes to Powder Painting."
Kevin Sheldrick, General Manager
Reach our Office to obtain a Quote, ask a question or receive immediate contact with one of our Team
Hours: Mon-Thurs 7 a.m. – 4:30 p.m., Fri 7 a.m. – 3:30 p.m.
Address: 135 Iber Road, Stittsville, ON K2S 1E7
Phone: 613-836-0554
Fax: 613 836-1380
Email:  kent@ottawapowdercoating.com (Owner)
mike@ottawapowdercoating.com (Shop Foreman)

NOTE: ALL Customer Pick-Ups are between 7:00 a.m. and 3:30 pm, Monday through Friday ONLY
All Rights Reserved. Ottawa Powder Coating, Ltd., 2022